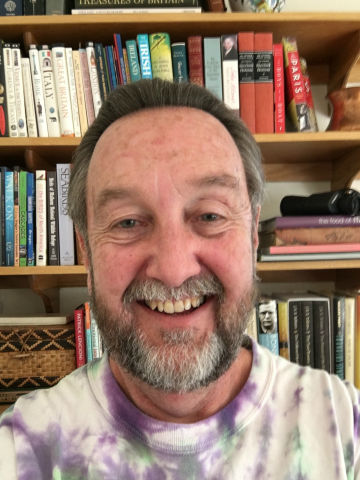 Life Together
With
Pastor Dave
Gifted and Gifting
"Every good gift and every perfect gift is from above, coming down from the Father of lights with whom there is no variation or shadow due to change." -- James 1:17

"What do you want for Christmas?" Over the past few weeks, I've been asked or asked it myself or heard that question more times than I can remember. And no, it has nothing to do with my memory. At least I hope not. So, when I came across the verse above from the Book of James, it made me pause. And think. And remember. And rejoice.

All of us have been gifted so much by our heavenly Father. I encourage us to make up our own list of the gifts God has given us in the days between now and Christmas, and thank God each and every day for His generosity to us.

Yes, in the midst of all the pandemic fallout, thank God! For what, you may ask? You have to decide that. True, Suzanne and I did not get together with ANY family on Thanksgiving Day. But we still gave thanks. For our marriage. Our family ... adult kids and grandkids ... for our faith family here at Evergreen Lutheran ... for our home, dry, warm, & safe ... for food on our table ... for the country in which we live (I know, it needs work; so do I). I can go on and on
and on and on and on ... I know, I've done this before.

Here's the challenge for us: how are we thanking God, right now? -- A prayer of thanks for each gift that's come from Him? Excellent!

So, make the list and try your hardest not to leave anything out. Double dog dare you. -- Making faithful use of each gift He's given us for His glory? Yes!!
Oh, after reading this one a few times it finally sinks in. A little more challenging? -- Sharing with others the gifts we've received from Him? Absolutely!
Most challenging. This is risky business on a number of levels. Your point?

What other ways can we thank God for all He's given us? I want to hear your ideas. Seriously. And if you allow me, I will share your ideas with all of us here at Evergreen Lutheran.

Want do I want for Christmas? Honestly, I want to be more thankful on the inside and want to give thanks more outwardly for "Every good gift and every perfect gift" God has given to me. Not just during the Advent/Christmas season but throughout the coming year.

Yes, in the midst of the unkown ... uncertain about when I no longer have to wear a mask or limit how many people I can gather with in worship or at my home ... frustrated but conflicting stories and opinions ... grieving with all those who have lost loved one in this Covid battle ... concerned for all those who no longer have a job because of all the shut -down, stay-at-home orders.
In the midst of all of this, there are still so many 'good and perfect gifts' from God.

Join me in giving thanks to Him for all He has given to us, remembering that . . .
God is here. With us. For us. In Us.
Pastor Dave